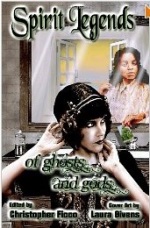 Title:
Spirit Legends: Of Ghosts and Gods
Published by:
Runewright, LLC
Release Date:
September 3, 2011
Genre:
Anthology
Pages:
390
ISBN13:
978-0983278238
ASIN:
B005L2NXPG
What world stand beyond the land of the living? In the wide open spaces beyond this existence, there is an infinite number of possible interpretations of ghosts, demigods and gods. It is within such impossible settings that the stories of "Spirit Legends" take place. Picture a Titans of ancient Greek mythology facing down a weary pantheon and try to stop man's destruction at the hands of Zeus. Imagine Aztec gods battling for supremacy in the city streets of your hometown. A Celtic legend will come out of the moonlight and rescue a woman from her murderous husband, and the ghost of a young girl will exact her retribution against the man who murdered her father.

This anthology explores that which lies beyond this mortal coil, with a multitude of pantheons represented, including Greek, Incan, Celtic, Christian, Native American and Norse. There are tales of sadness and despair, of retribution and triumph. Mixed into every story is an expression of humanity that often touches or torments the soul. Each one of us must face our own mortality, and we frequently choose to make our way through life connecting with things greater than ourselves to help overcome the travails and challenges of existence. In many respects, that's what "Spirit Legends" is all about. Whether you believe in God, a god or gods, or none of the above, the stories herein will take you to new notions of "the great beyond" and perhaps help you understand your own existence just a little better.
Add on Goodreads
Buy the Book:
Amazon
, 
Barnes & Noble
, 
Kindle
Spirit Legends: Of Ghosts and Gods