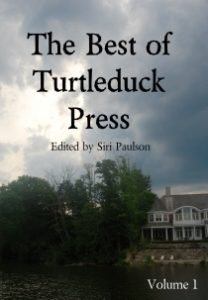 Title:
The Best of Turtleduck Press, Vol. I
Series:
Turtleduck Press Anthologies
Published by:
Turtleduck Press
Release Date:
August 1, 2013
Contributors:
Kit Campbell, Siri Paulson, KD Sarge, Erin Zarro
Genre:
Anthology
Pages:
34
ASIN:
B00E9NP2Y8
Turtleduck Press is proud to present our first "Best of" collection, as voted by our members. This anthology features:

The Dangers of Creation; or, a Machine to Rival Man by Siri Paulson – Gothic/steampunk, 19th century setting.

Fanged Bunny Slippers by KD Sarge – comedic Dream 'verse character sketch, far-future off-planet setting

To the Waters and the Wild by Kit Campbell – contemporary (but not urban) fantasy with a fairytale feel, 21st century setting

Imprint, a poem by Erin Zarro regarding brokenhearted love

And a special sneak peek at Kit Campbell's upcoming novel, Shards!
Add on Goodreads
Buy the Book:
Kindle
, 
Smashwords
The Best of Turtleduck Press, Vol. I