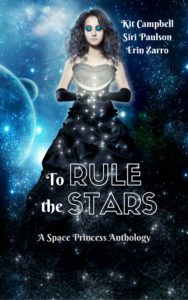 Title:
To Rule the Stars
Series:
Turtleduck Press Anthologies
Published by:
Turtleduck Press
Release Date:
November 15, 2016
Contributors:
Kit Campbell, Siri Paulson, Erin Zarro
Genre:
Anthology
Pages:
200
ISBN13:
978-1540425041
ASIN:
B01N0DCNY2
Meet the princesses.

A trained diplomat, kidnapped by an alien race desperate for justice, and its dashing leader...

A political pawn, on her way to meet her betrothed, who stops in the asteroid belt to answer a call for help, and finds a princess both beautiful and brave...

A captive raised to believe that the greatest evil is magic, when it--and the handsome ship's engineer who wields it--are the one thing that might save her...

Here are their stories.
Add on Goodreads
Buy the Book:
Amazon
, 
Kindle
, 
Smashwords