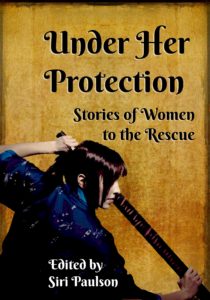 Title:
Under Her Protection: Stories of Women to the Rescue
Series:
Turtleduck Press Anthologies
Published by:
Turtleduck Press
Release Date:
August 1, 2014
Contributors:
Kit Campbell, Siri Paulson, KD Sarge, Erin Zarro
Genre:
Anthology
Pages:
154
ISBN13:
978-1500660888
ASIN:
B00M9XCI6A
Sometimes men are the ones trapped in a tower, or bound by a curse, or doomed to stay in the underworld. Damsels or not, they need rescuing too. And these are just the women to do it…

KD Sarge writes of a swordswoman and a scholar.

Erin Zarro tells of a grim reaper and a dead man.

Siri Paulson shares the tale of a maidservant and an inventor.

Kit Campbell writes of a new university grad and a prince.

Turtleduck Press proudly presents fantasy romance stories about strong women…and men who need their help.
Add on Goodreads
Buy the Book:
Amazon
, 
Kindle
, 
Smashwords