Hey, squiders! I hope you're having a good week! Mine hasn't been excellent, but what can you do?
As you guys know, I've been working on some other creative endeavors recently aside from just writing. (I did get two short stories written at the end of October/beginning of November, so hooray!) The first is a musical review of Christmas songs from musicals and movies, and I also just finished up a drawing class at my local rec center.
The musical review has been…interesting. We have our last rehearsal tonight, where we're learning a dance for the first time. And then there's no rehearsal until tech week starts after Thanksgiving. I shall be very interested to see how that goes. Also, we haven't run through the show in any way or form–I have no idea what order the songs go in. I'll admit to being a bit anxious about that. I haven't done a musical review before, but I have done plays and musicals, and the order is so important. Maybe, because there's not a ton of flow, it doesn't matter so much. Maybe we'll just get a list of songs backstage so we can check where we are.
Who knows? Not me!
I'm singing tenor on most of the songs. There's…five? guys in the show compared to about twenty women, so the balance was off. And I can sing tenor, though it does make my throat hurt after a while. So that's ALSO been interesting, especially since I've forgotten how to read a tenor clef.
(Also, I'm singing harmony on "Welcome Christmas" from How the Grinch Stole Christmas, which is proving difficult since I'm so familiar with the melody, but as long as I get off on the right foot I'm okay. Ah, the struggles of not being a soprano.)
(Also, why do the sopranos always get the melodies?)
Have you done musical reviews, Squiders? Is it normal to be so disconnected?
My drawing class was an interesting experience. I enjoyed having two hours to myself every week to do nothing but draw. Not sure I learned anything, though. Here's a picture of some trees I drew.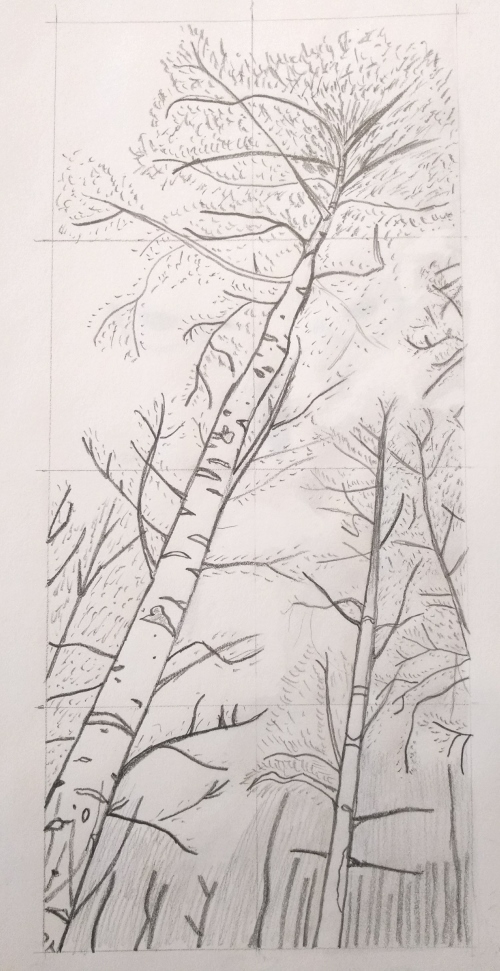 I'd like to say I've been keeping up with the drawing, but I haven't. But maybe I can institute drawing time with the small, mobile ones? They get crayons and construction paper. Well, the bigger one can have markers, but the smaller one draws on herself and my couch, so no markers for her.
I've been pondering doing another readalong, but perhaps instead of getting stuck in what might be a terrible series (here's looking at you, Finnbranch trilogy) we could try doing a single book every now and then. I've just started Connie Willis' Doomsday Book which might be a good one (big though–600 pages), though I do have some older scifi and fantasy that I picked up at MileHiCon.
What do you think, Squiders? Would reading a single book and then discussing it be something you'd be interested in?
We'll talk common writing problems again on Thursday.
Creative Endeavors and a Readalong?