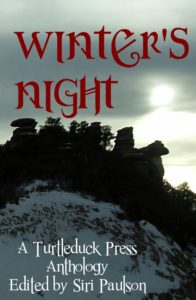 Title:
Winter's Night
Series:
Turtleduck Press Anthologies
Published by:
Turtleduck Press
Release Date:
December 1, 2011
Contributors:
Kit Campbell, Siri Paulson, KD Sarge, Erin Zarro
Genre:
Anthology
Pages:
82
ISBN13:
978-1467970976
ASIN:
B006GINDE0
A Marine on leave.

A heartfelt rondeau.

An Inuit on the edge.

A dreamer on a quest.

What do they all have in common? They're in the Turtleduck Press anthology Winter's Night. Created as a sampling of our work, the anthology benefits UNICEF.
Add on Goodreads
Buy the Book:
Amazon
, 
Kindle
, 
Smashwords