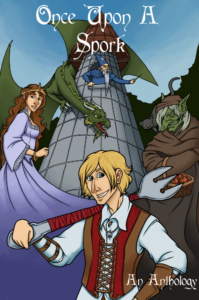 Title:
Once Upon a Spork
Series:
Spork Room Anthologies
Release Date:
August 16, 2011
Contributors:
Kit Campbell (Editor), Sarah Wendorf (Editor), The Spork Room Writers
Genre:
Anthology
Pages:
250
ISBN13:
978-1466236141
ASIN:
B005JTCKZ0
ONCE UPON A TIME

It's a term so many of us know like the back of our hands, a phrase that promises magic and adventure, strange lands and wondrous creatures. Fairy tales play on our imaginations – we picture elves, wolves, and evil queens and wonder what we would do if confronted with such trials ourselves. Would we be brave like Gretel? Would we fight through thorns and dragons to reach our true loves? Would we be able to see past bewitched exteriors to the people inside?

In this collection, the members of the Spork Room writing community have taken a look at what Once Upon a Time means to them. In this volume, we present both old favorites revisited and new tales of the magical. Step inside and let us take you on a journey of adventure, magic, and mystery.
Add on Goodreads
Buy the Book:
Amazon
, 
Barnes & Noble
, 
Kindle